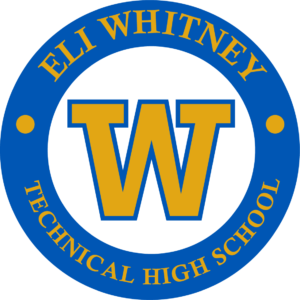 Eli Whitney Technical High School is located in Hamden, Connecticut. We have almost 600 students from eight towns and enroll grades 9-12 and also offer adult education.
Our 11 technology programs cover careers ranging from graphics and cosmetology to automotive and manufacturing. Our academic program is competitive and comprehensive. Starting in their junior year, students also have the ability to take advantage of our Work-based Learning program, where they can earn credit while working during the school day in their trade.
JOB BOARD
Are you an employer looking to hire a CTECS student or graduate? or Are you a CTECS student or alum looking for a job?
HIRE US: STUDENT WORKFORCE
HIRE US
Student Workforce is a business run by students and faculty at CTECS. Consider hiring us for your next project!
QUICKLINKS
Quick access to those pages most frequently visited by families and students.
NEWS & ANNOUNCEMENTS
Please congratulate the following students for being awesome! December Inspired Students 9th [...]
School Calendar 2021-22 (1.10.22)
UPCOMING EVENTS
Nothing from January 25, 2022 to February 1, 2022.
CONNECT WITH US
Connecticut Technical Education and Career System
Thursday, January 20th, 2022 at 5:25pm
Now Hiring!
Bullard-Havens Technical High School is seeking a teacher for their Health Technology program! ⚕️
☑️ RN license with 8 years of experience required
☑️ Highly competitive salaries
☑️ Extensive benefits package
To...
The Connecticut Technical Education and Career System (CTECS) operates 17 diploma-granting technical high schools, two aviation maintenance technician schools, and an adult education center. CTECS graduates are career and college ready, and able to immediately support the skilled-labor needs of Conn...