Seniors Charging kiosk for electric cars coming to West Haven City Hall
PHOTO CAPTION: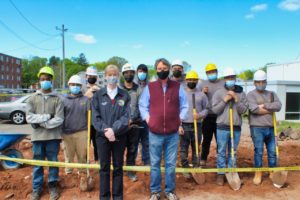 WEST HAVEN, May 6, 2021 — (Pictured): Mayor Nancy R. Rossi and city grants writer Doug Colter join seniors of the electrical department at Eli Whitney Technical High School in the parking lot of City Hall on Thursday, May 6.
The student electricians, instructed by department head and master electrician Mike Siefker, are installing West Haven's first charging kiosk for electric cars.
The 240-volt charger was donated by Enfield manufacturer Control Module Inc. as part of a pilot program sponsored by the Greater New Haven Clean Cities Coalition Inc.
Rossi has agreed to have the charger installed in the City Hall parking lot for public use.
Once the two-week project is finished, electric car owners can use the charger for free because it is connected to an existing solar array atop the future West Haven Center for the Arts, Colter said.
The city, however, will monitor the usage cost and may install a pay station if the usage exceeds what it earns from the rooftop solar photovoltaic system, Colter said.
The charger installation is a cooperative effort between the West Haven Department of Public Works and the Hamden school's electrician training program.
(City Photo/Michael P. Walsh)
END
Michael P. Walsh | City of West Haven
Public Relations Information Coordinator
Department of Human Resources
City Hall
355 Main Street
West Haven, Connecticut 06516
Mike Siefker​
Department Head Electrical
Eli Whitney Technical High School
203-397-4031 ext 3774
m​ike.siefker@cttech.org
"Don't think about things to do, do the things you think about" ​Michael W Siefker 2017